Recall Information
In cooperation with the National Highway Traffic Safety Administration (NHTSA) and Transport Canada, Britax Child Safety, Inc. announced today that it is conducting a voluntary safety recall on certain Advocate ClickTight, Boulevard ClickTight, and Marathon ClickTight model convertible car seats manufactured between August 1, 2014 - July 29, 2015 with the following US & Canadian model numbers:
USA: E9LT95Q, E9LT95Z, E9LT95N, E1A025Q, E9LT86F, E1A135Q, E9LT86G, E9LT85Q, E9LT86A, E9LT86H, E9LT85S, E1A015Q, E1A016A, E1A016H, E1A116L, E9LT76P, E9LT71Q, E9LT76N, E9LT76B, E9LT75R, E9LT76L, E1A006B, E1A005R, EXA116L
Canada: E9LV31Q, E9LV35R, E9LV36B, E9LV36L, E9LV36N, E9LV45Q, E9LV45S, E9LV46A, E9LV46H, E9LV55N, E9LV55Q, E9LV55Z
In a continued commitment to child passenger safety, Britax has determined that certain ClickTight model convertible car seats may contain a defect with the harness adjuster button, which would pose a safety hazard. The harness adjuster button may remain down in the "release" position after the harness is tightened. This will enable the shoulder harnesses to loosen from a child's movements while secured in the seat. A loose harness may not adequately protect a child in the event of a motor vehicle crash.
To address this issue, Britax is automatically mailing a free remedy kit to all registered owners of the recalled car seats within 7-10 business days of the announcement. The remedy kit includes one (1) non-toxic food-grade lubricant, a label indicating that the remedy has been completed, as well as an instruction sheet for applying the lubricant to the harness adjuster button (red). Owners should confirm if their product is included in the recall by visiting www.britaxconvertiblerecall.com or by verifying the model number and date of manufacture (DOM) as follows:
The DOM label is located under the car seat cover to the right of the "ClickTight" dial.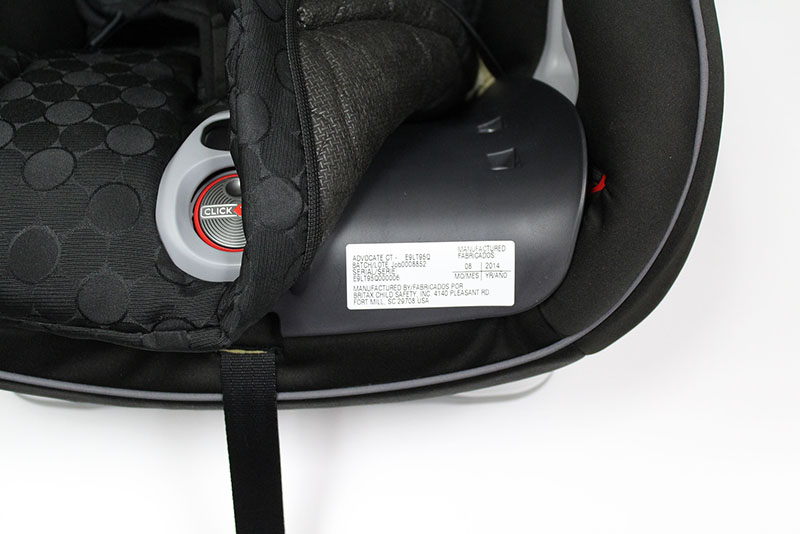 If a consumer confirms that their harness straps remain securely tensioned, they can continue to use their car seat until their remedy kit arrives. If an owner cannot get the shoulder straps to remain in place, then Britax recommends against using the car seat until the lubricant has been applied.
Consumers who have not registered their product or need to verify an existing registration should visit www.britaxconvertiblerecall.com, contact Britax customer service toll-free at 1-888-427-4829 (choose option 3) from 8:30 a.m. to 5:45 p.m. Eastern Time Monday through Thursday and 8:30 a.m. to 4:45 p.m. eastern time on Fridays. Consumers outside of the US and Canada may call 704-409-1699 or email [email protected].
Britax ClickTight Convertible Car Seat Recall: Identify the Defect
Britax ClickTight Convertible Car Seat Recall: Remedy Kit Instructions